We've told you it's happening, some of you have already bought the books, but here it is – the omnibus round-up of Public Address Books launch detail. If you would like to help David Haywood celebrate the launch of The New Zealand Reserve Bank Annual 2010 and Emma Hart celebrate her debut, Not Safe for Work, this is your blog post.
It begins in the capital, where Wellington Central MP Grant Robertson has very kindly agreed to host us at Parliament's Grand Hall on Friday Nov 27, and, with the approval of the Speaker, this lovely room comes at no charge. Unfortunately, the same cannot be said of the locked-in catering. We did seek a corkage deal (our only sponsorship support is liquid, courtesy of Monteith's and Matawhero wines), but the quoted $16 per head for corkage alone was far beyond our means. I may yet be able to arrange something, but there will be water available at the least.
So in Wellington, you are very welcome indeed to meet us at the backbencher from 5pm if you would like a drink before the 6pm launch. After the Parliamentary part of the evening, we were adjourn to the Thistle Inn, where our sponsors' products will greatly aid the launch of Emma's book (officially, David's book will be launched at Parliament and Emma's at the Thistle, but there will naturally be some crossover).
It will be a thoroughly excellent evening, we'd love to see you all (well, perhaps not all of you …). But especially for the Parliamentary part of the evening, we'll want you to RSVP to these official invitations:
Official invitation to the launch of David Haywood's New Zealand Reserve Bank Annual 2010 at the Grand Hall of Parliament, Wellington.
Official invitation to the launch of Emma Hart's Not Safe for Work at the Thistle Inn, Wellington.
Things are much simpler in Auckland, for we are simpler, more commercially-minded folk. There is but one launch, and it is at the Velvet Room, Sale Street bar, on Wednesday December 2. You can RSVP for via the address on this invitation:
Official invitation to the Auckland launch of David Haywood's New Zealand Reserve Bank Annual 2010 and Emma Hart's Not Safe for Work, at the Velvet Room.
The Christchurch launch is pending confirmation. Thanks to Joanna McLeod for getting the party started right in Wellington, to Grant Robertson and Jen Toogood, the folks at Pead PR, Luke and the team at Sale Street – and of course to Monteith's and Matawhereo for the liquid support.
It'll rock.
But wait! There's more! In keeping with the rule that in the future all copyright creators will make a living off t-shirts sales, we're, er, giving away a t-shirt. Well, David is anyway. It's this one (supplied in a size of your choice):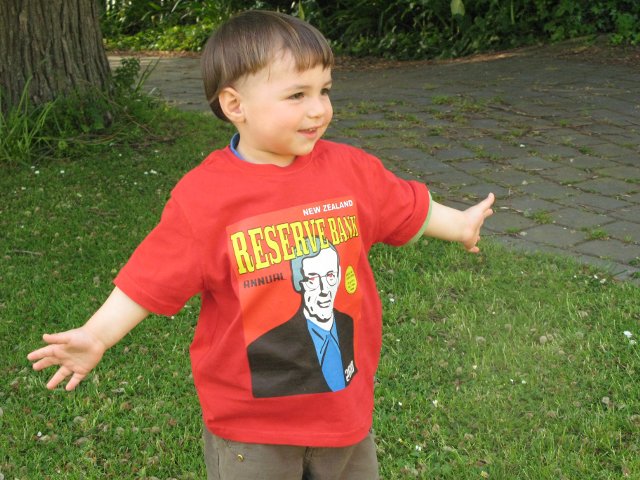 But there's a test of knowledge between you and that awesome shirt. You must answer the question "According to the New Zealand Reserve Bank Annual 2010, what is Alan Bollard's preferred beverage?" Hit Reply and email me with the answer in the subject line. [sorry, gone now]

PS: It has been noted that the cover of Emma's book may actually be deemed not safe for work in some offices. So here are the actual rsvp addresses:
rsvp.auckland@publicaddressbooks.com
rsvp.wellington@publicaddressbooks.com
rsvp.thistle@publicaddressbooks.com
---
For now: Phoenix Foundation have a free track for you, 'Everybody's Money', from their forthcoming Christmas EP, Merry Kriskmass. How jolly nice of them. If you happen to see a member of the Phoenix Foundation in the street, be sure to offer your thanks. Otherwise, just thank the next bearded man you meet. The karmic effect will be essentially the same.
And here's last night's Media7, from the SPADA conference in Wellington, featuring interviews and discussions with Broadcasting minister Jonathan Coleman, John Barnett, Nick Murray, Jane Wrightson, Tainui Stephens and Paora Maxwell, but reports on the exhibition of Prime Ministerial portraiture at Shed 11 and new Flip micro HD camera.