As one does, we flipped on Radio New Zealand National yesterday morning -- to hear Simon Morton signing off from Kashmir. Why, I wondered, is Simon in India? And why does he sound so freaked out? It took a minute to grasp that he was in fact in Cashmere and he was understandably unnerved because Christchurch city had suffered a very significant earthquake.
It turned out that the news had reached the wider world literally within seconds of the big quake (or quakes, as the case may be) at 4.35am, via radio talkback calls and, more significantly, Twitter. Hawke's Bay resident Joyce Seitzinger has since written a blog post about suddenly waking to see this concise, urgent tweet from her friend Kalena: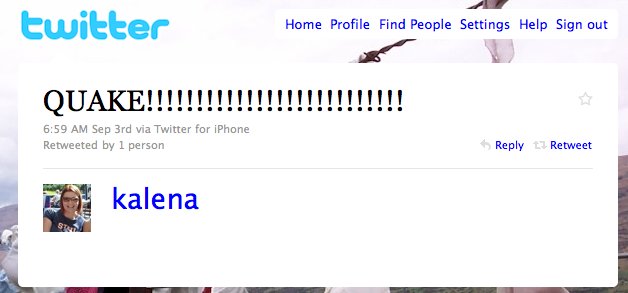 Joyce then explains what she did next, which was to check Geonet. Of course. Then:
I returned to the Twitterstream which had now exploded with tweets mentioning "new zealand", "earthquake" and "christchurch". And pretty soon the first hashtags started forming: #earthquake, #quakenz, #nzquake, #nz, #christchurch and combinations of these. And of course there was the inevitable question after Indonesia, would there be a #tsunami? By around 5am one hashtag began emerging: #eqnz.
She wasn't completely sure who had first proposed #eqnz to aggregate news of the quake, but it seems to have been opened for business on this Canberra-based Twitter account formerly dedicated to tracking the Gulf oil spill, and propagated by the Chinese Twitter user westmoon and Twitterstream of Sydney-based "SMD Industries", both of whose authors clearly sit on international notifying services looking for breaking disaster news.
Then at around 6am, out of nowhere, came a new tag: #christchurchquake. It was used by@mrsgooding and @fmcampers for a few tweets, but then adopted at 6am by the official twitter account for NZ's Civil Defence authority: @nzcivildefence. This account is followed by 2,800+ followers and so could weigh in as an official, regularly updated source of information. Unfortunately the account seems to be run by a bot, and is updated only hourly with information from the website.
This might seem like the sort of thing only nerds and obsessives would care about, but it actually has a significant bearing on what people find when they search for information about an event. Joyce goes through the reasons that the #christchurchquake tag didn't take – which come down to it being too long and too late.
Before 9am, TrendsMap's location-based Twitter maps was looking like this: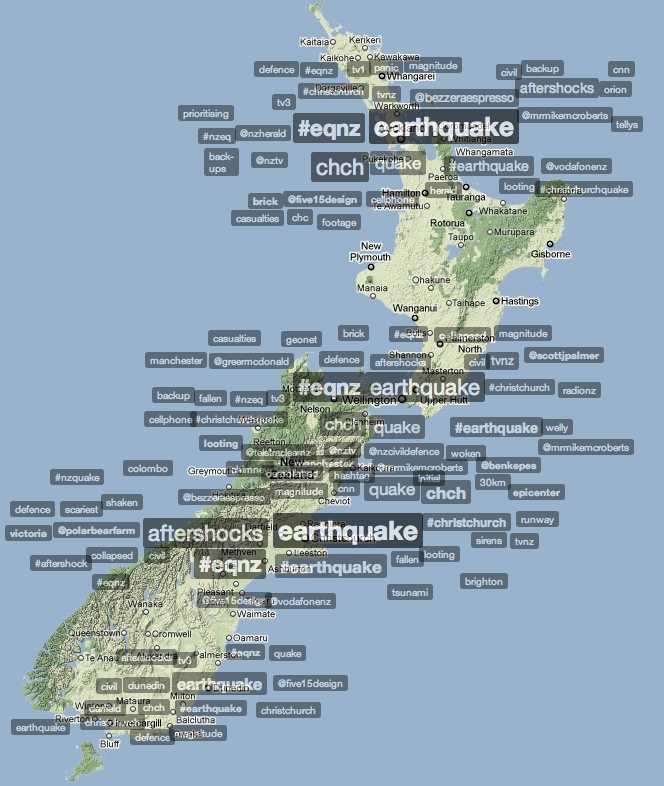 Meanwhile, foreign news media were already heading to Twitpic, to find images to accompany their stories:

Among those providing images was iPhone developer Layton Duncan, whose first quake tweet hit the wires while the city was still shaking: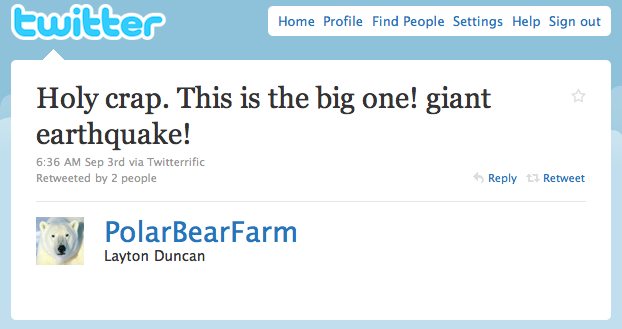 His first picture, a few minutes later, was a look at the brick boundary wall that had collapsed on his property. His inbox soon ballooned with new "follow" notifications from Twitter.
There were at least a dozen others who had similar experiences.
---
I got on the tweets at a leisurely 8.25am, to find a couple of "we're okay" messages from Emma Hart and an anxious query from Nat Torkington as to the welfare of David Haywood and his family. As I was doing that, Jolisa published her post to Public Address.
Before too long, I had a very welcome text back from David to say that he, Jen and Bob were fine, but the house in Avonside was in "total disarray". One by one, Christchurch readers have been checking in with reports and impressions. The wonderful Rachel Prosser even got on her bike to get photographic evidence for me that Whisky Galore had come through well.
Like so many people, we all established the status of our friends in Christchurch via our electronic communities. As Craig Ranapia pointed out in the discussion for Jolia's post, it was five days after the 1987 Edgecombe quake before he was able to talk to his parents, who were there.
So I sat there for the rest of the morning, trying to be relevant, vaguely embarrassed by my local paper making a big deal out of how to "cope" with a temporary road closure.
Other resources fired up: A Wikipedia article was spawned quickly, and the Science Media Centre began passing on information (SciBlogs' brand new data visualisation guy has a lovely, simple "storyboard" of the big quake and yesterday's aftershocks from Geonet). By this time, of course, commercial talkback had been abuzz for hours, and Radio NZ's overnight show had been calmly passing on news. TVNZ's Hannah Ockelford unexpectedly found herself at the scene of a story when people started running screaming through the hall of the Crown Plaza hotel (where, I am told, some of the fire exits were locked). Later, Kim Hill helpfully told Christchurch listeners how to crap in a bag if their toilets didn't work. Richard Hulse says that between 6am and 9am, Radio New Zealand's web traffic was 10 times its usual level.
---
The developing coverage by foreign news media was interesting to follow. ChannelNewsAsia reported that while Singaporeans in Christchurch had been "shocked and frightened by the quake … there had been no reports of any injuries among Singaporeans in New Zealand," even though the quake had been felt as far away as "the town of Timaro [sic], about 100 kilometres from the epicenter." Similarly, the Malay Mail assured its readers that "Malaysians in New Zealand are reported to be safe".
Those of you inclined to cringe when a local report about a disaster visited on nameless brown-skinned folks in a faraway country leads with the news that New Zealanders are safe may be somewhat comforted by the thought that it's the same everywhere.
On the Guardian website, the most-read stories of the past 24 hours have been two reports on the Christchurch earthquake, one of which is notable for quoting Bruce Russell of the Dead C. There was also a front-page report on the terrible plane crash in Fox Glacier, which informed readers that "Fox Glacier is a popular tourist spot in New Zealand's Southern Alps, about 90 miles from Christchurch."
Geography fails happen to the respectable press too.
But nothing really gets close to this Good Morning America report from ABC's London bureau, which declared that "in New Zealand tonight there will be a curfew", owing to a "frantic" mood after "many buildings caught fire" and, "whole village" being "submerged" and "nobody without any power or water." Or something.
I've largely left TV out of this media post, because it's long enough already, and I'll probably look at it visually in Media7.
And I am more interested in the role played by the social platforms, and Twitter in particular. The point isn't that it's better than established media (although it can be more useful), so much as that it's a new media layer: one sourced closer to the ground. The way Twitter forms news is a matter of many small pieces forming a bigger picture. When Emma tells her friends the family is safe and damage is minimal, it matters crucially to us – but it also contributes to a more nuanced picture than a news bulletin can draw.
Debating whether anyone doing this is a "citizen journalist" or not is beside the point. We know that people, ordinary people, do know how to report – and they know when reporting is asked of them.
---
Chris Keall at NBR compiled a properly-credited series of citizen pictures, including this one, which is already, in its way, a classic: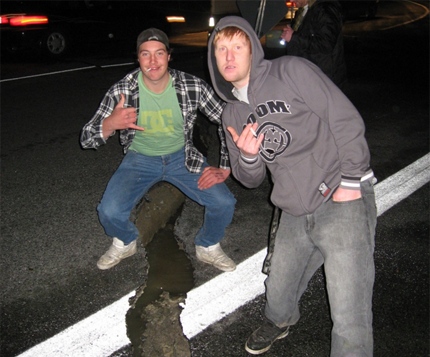 ---
And so, finally, to the Sunday papers. I think today's Sunday Star Times front page is superb. It gets the tone right. And this bloody thing gets it all wrong: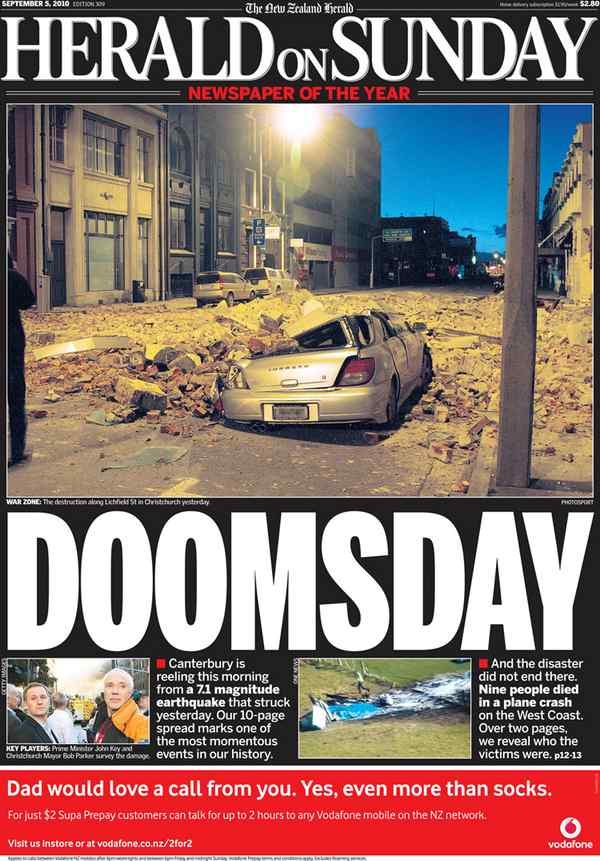 The first word of the Herald On Sunday's lead story about the earthquake is … LOOTING.
LOOTING, HOMELESS families and thousands of lives thrown into disarray: Kiwis are coming to terms with the devastation of one of their proudest cities.
Really, what does that even mean?