Here are three lessons you learn the hard way in Auckland:
1. No matter how sunny it is right now, it will start to rain on your party ten minutes after you move everyone outside.
2. The cost of your building project will be double. Whatever they told you, double it.
3. If the ferry for Devonport is leaving in one minute, the lights will keep you stranded on the far side of Quay Street for two.
I have changed my mind about Party Central. I had misgivings: a good opportunity likely to be squandered, a lot of money wasted. I still have my doubts about the politicians getting it right, but I have no doubt now about the possibility of getting something exciting built there.
Let us gather around the table. Copeland Associates - an Auckland firm of architects - have a model for us to look at.
Ask yourself: what is the best way to enjoy the outdoors in Auckland? Under a verandah, of course. You get the views and the sunshine, but when the rain rolls in, no-one has to move. That's what this does. What we have here is a giant verandah for the city.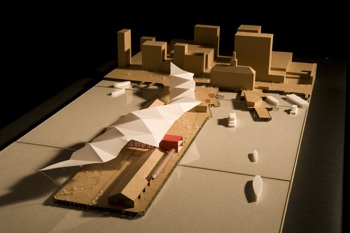 Look at it. It's beautiful. It's a sail. It's like nothing you've seen anywhere else. Click the little picture to get a larger version and see it in all its glory. It sits alongside the water, undulating and meandering along Queen's Wharf, providing shelter enough to stage all manner of large gatherings and events.
Tucked into it, between the two old sheds is a passenger terminal: a skybridge, elevated and secure, and painted in the red of the fence that runs along the waterfront; fully functional, but sufficiently out of the way to permit the rest of us to come and go.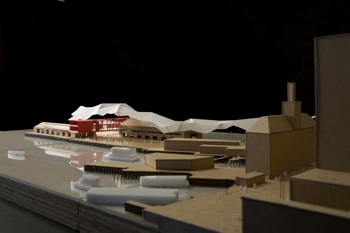 And now imagine how it might look like at night with a light show playing on it. Recall what the Town Hall looked like a few months ago. Think of the public art on the Wellington waterfront and imagine poetry illuminated upon those flowing sheets above you.
Imagine strolling down Queen Street and being able to walk UNIMPEDED, AND AT WILL, across to this wharf. With a verandah.
But. But. But. What about the money? What about the deadline?
Oh, it just keeps getting better. Money? The budget we've been hearing about so far has been $80 million. The verandah itself would be in the order of 10 million. Let's say it would cost 20. You still have 60 to work with to build your passenger terminal and renovate the two old sheds, which, you may recall, was the core idea of the Party Central site. Those two buildings could be problematic. You could spend a lot of money and take a lot of time in the construction and not, in the end, get what you need: namely a good passenger arrival terminal and an adequate facility for public partying. The beauty of the Copeland proposal is that it gets the partying space and the arrivals space created separately, leaving the sheds as optional extras.
That is to say: they could be renovated, but they wouldn't have to be. As long as there is a large sheltered area and a distinct arrivals area, you have the essential facility. That leaves you with the prospect of more facilities as and when you need them, can afford them and can agree on how to create them.
If this is to be developed in time for the Rugby World Cup, in 2011, simplicity has a lot to recommend it. Conveniently this kind of structure can be built very quickly. Copeland Associates say they have built several similar structures using this kind of roof material. They are working on one right now for the rugby stadium in Whangarei. In their words:
This fast to build and cost effective tension membrane structure can be ready in time for the Rugby World Cup. The project would showcase the skills of New Zealand architects, fabric engineers and constructors, world leaders in this technology.


My initial objection was that what we sorely needed was being rushed into action at the eleventh hour, and we would pay the price for hasty thinking. Pragmatically, though, I see that if this Rugby World Cup is what it takes to get a really good facility that links the city to the harbour side, then we had better get on the bus, because it's quite possibly the only one that's going to come bouncing down the road.

And with this plan, the risk of overcapitalising the project or squandering our one chance seems to be enormously diminished. It can be built in time and at relatively low cost, and yet the essence of the structure is remarkable and striking and bound to work.

Let's add the last important piece of the jigsaw. If you're in Queen Street or Albert Street or Shortland St, what could be better at lunch time than to stroll down to the harbourside? Well: how about this: strolling down to the wharf without having to wait at the lights while all of Auckland's cars and trucks hurtle by. This plan proposes a pedestrian precinct. The Quay street crossing would be closed to traffic, which would be diverted around. Build all this and they will surely come. Every day, in their thousands.

So what will be the fate of Queens' Wharf and its $80 million makeover? According to this story, an ideas and design competition for the development of Queens Wharf is currently being organised by Auckland City Council, Auckland Regional Council and central government. Copeland Associates are very eager to submit theirs. I hope it fares well. I could only admire it more if it included a travelator to Stanley Bay.