I've been riding this summer, on the road and elsewhere. And although the blessed Auckland exodus made the roads a quieter place this month, elsewhere is still often a more pleasant option. A network of largely unused paths winds through the city's parks and reserves; unmarked on council maps because they're not dedicated cycling paths.
Meola Reef, the Oakley Creek Walkway, Western Springs Park (the track down from West View Road will test your stuff): The Chev is adjacent to some good turf. It's now also home to Rode, a new cycle store at the corner of Great North and Carrington roads.
The gaffer there, Tim Welch, is a very nice chap, and tipped me off to the winding gravel path through Alan Wood Park, on the future motorway route.
Sadly, you can only get there off New North Road -- the railway line and Pak 'n' Save break what would otherwise be one long, fun ride up the course of Oakley Creek, from the bottom of the walkway at Waterview through a succession of parks and reserves to the far side of War Memorial Park in Mt Roskill.
Turns out, these things are mapped. Via Twitter (he's here) Tim sent me a link to this map tracing the Roy Clements Treeway, a pretty but obscure boardwalk that runs behind Mt Albert Grammar. He and others have been using OpenStreetMap.org to fill in paths not marked on most maps – they're the dotted red lines.
I link up to it by nipping down the hill from Mt Albert Road, just before Plant and Food Research, and it makes a good round trip back from Roskill.
The view is excellent. Depending on whether I actually tackle Mt Albert itself (only once, and not directly up Summit Drive), I can pass state houses, mansions, villas and swish apartments in the space of a few minutes. It's immensely informative. And I can barely begin to express how much more interesting it is than going to the sodding gym.
(I should note that I'm really liking my choice of a hybrid bike: road tires, MTB bars, lockable front suspension. It's pretty much perfect for what I want to do.)
---
Other mentions for holiday-season customer service: White Cross St Lukes Dental (Boxing Day, again); White Cross St Lukes A&E (Fiona ruptured her Achilles playing tennis, they were nice to us); and the folks at EB Games St Lukes, who calmly facilitated a trade to rescue a crisis that saw both the Playstation 3 and the Xbox 360 die, provoking a critical shortage of game and DVD platforms in the house, at or around Christmas. And no, we couldn't go to the beach …
As you might guess, it has been a challenging summer.
---
The last of the Media7 Summer Editions screened last night, and focused on music. It's here online
I interviewed Roger Shepherd about his re-acquisition of Flying Nun Records (I didn't go into his business dispute with would-be partner Ben Howe of Arch Hill Music, but I think he and Roger need to talk, and that Roger should make the approach); with IMNZ's Damian Vaughan and TVNZ's Cameron Bennett about the late Dylan Taite, on occasion of the new Taite Music Prize (Jose Barbosa did us a great little backgrounder on Dylan too).
And the show concluded with a chat with Dave Dobbyn, about the neat Paul Casserly-directed film 30 Years on the Road that comes with his new best-of CD, and about music, the internet, and passion. I have a lot of time for Dave. He was also kind enough to play us out of the show. The clip is at the bottom of this post.

__
More rock 'n' roll! The Checks' manager, Phil Moore, tells me that they're playing the Leigh Sawmill Café on Waitangi Day, with Artisan Guns. Advance tickets are $20 from Moshtix.
But I also have a double pass (you +1 on the door) for the reader who can tell me what band Phil Moore himself used to be in. Put your answer in the subject line.
And for everyone else, The Checks are giving Public Address readers an MP3 copy of their new single, 'Ballroom Baby' – right-click here to download, jus' like that. They have a video for the song, directed by Ben Rood, out soon.
Some bass for your face: Hamilton dubstep outfit Knights of the Dub Table have put together a remix EP for their track 'Sing It To Me' – and it's free to download, here at Amplifier.The Tiki Taane mix is particularly good.
Also free via Amplifier: Miho Wada's 'Piss Off (Such A Loser!)'. Um Japanese jazz ska?
I really like 'There's Space for Ol Dat I See', the trippy new track previewed via her Twitter account by M.I.A.. Here's the video:
And there's an a fairly scratchy MP3 lifted from the video here, to tide you over till her album comes.
---
Even more rock 'n' roll! Auckland City's Music in Parks kicks off tomorrow with a pretty choice show at Coyle Park in Pt Chevalier: Dimmer, SJD, LA Mitchell and Computers Want Me Dead, from 1pm.. You can follow Music in Parks on Twitter.
---
And finally, some "bogan wordplay", snapped on the northwestern motorway by Vaughn Davis.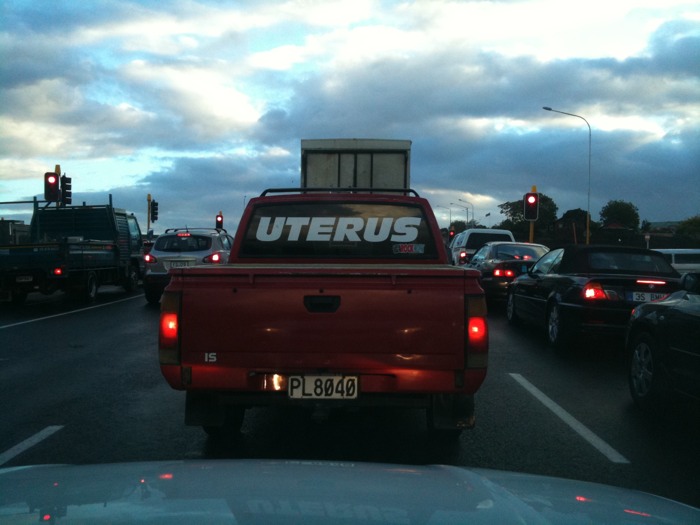 How … literate.
--
FRESHLY UPLOADED:
Dave sings us out of Media7: