Let's climb up here on the grassy knoll and take a look around. David Farrar has a "more conspiracy madness" roll call of recent left wing conspiracy theories here.
I can't disagree with him about the implausibility of any 9/11 Reichstag fire theory, and it seems to me that US senators are as likely as any mortal to succumb to one of the most common causes of death in America. On the other hand, if some unfavourable report about Diebold should emerge one day, I wouldn't be completely flabbergasted.
Oh, those lefties with their tinfoil hats. But look! Over here in John Drinnan's Herald column! Wayne Mapp sees a dastardly plan in the Billboard Blitzkrieg. It's not aesthetics they have in mind. No, these lefty Auckland City Councillors want to emasculate National's hugely successful billboard strategy.
Altogether now, in John McEnroe tones. You cannot be fucking serious.
He must surely be having a bit of a political flourish. Either that, or press releases and interviews don't go well with Christmas egg nog.
It does raise an interesting question, though: can this particular lightning strike twice? Would National necessarily do so well with a billboard campaign next time around? And would they use the same He Said/She Said device again?
That could prove tricky if the new leader wants to continue his tack to the centre. This, for instance, is unlikely to work.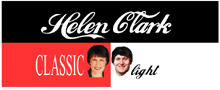 Do ad campaigns get refreshed because the device has lost its effect, or do they change because the ad agency needs to justify a whole new round of invoicing?
Have you had enough of the Tui billboards, I wonder?
If we pull out our copy of The Hollow Men, (and you can guarantee commentators will be doing that all the way to polling day) we learn that John Ansell was the creative talent behind the billboards. If the book is reliable on this matter, it would seem that the quality of Ansell's creative output is a little inconsistent. Some of it sounded to lack the deft touch of the Iwi/Kiwi series.
But this is all assuming that things will just repeat themselves.
It may well be that trader Key is looking to win this thing, policy debate by policy debate. Take forestry and the carbon neutrality goal. If we want a land full of pine trees, should the government not be a little stronger on the carrot and not quite so heavy on the stick? This is their third go at this and it seems once again that they may have mis-cued it. There are gaps there for Key to make strong arguments, and they will resonate, with or without a billboard on Queen Street.