I am, as is widely known, a heterosexual male (references available on request). But I've never had any trouble being one of the girls when it comes to red-carpet frock assessment; or, as has been the case this week, being bitchy about the "national costumes" section of the increasingly odd Miss Universe pageant.
The "Fabulous & Opinionated" Tom & Lorenzo have already done the hard work by compiling their Miss Universe 2010 National Costumes, Part 1 and Part 2 galleries.
I think Miss Kazakhstan's costume is likely to be misunderstood, but actually reflects the vital avant-garde arts scene highlighted by Waldemar Januszczak in the excellent 2006 TV documentary Kazakhstan Swings:
I can think of no similar rationale for Miss Peru's costume: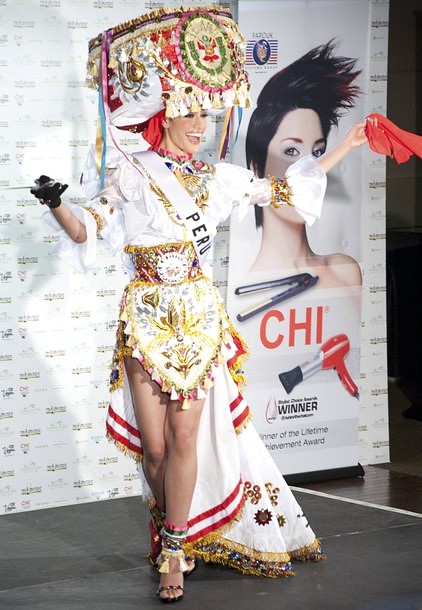 The "national dress" costume of Miss Universe New Zealand, Ria Van Dyke, has created a stir not by being either particularly gorgeous or surpassingly silly, but by being not made in New Zealand. She apparently approached 38 New Zealand designers for support, but none were interested. Which might say more about the standing of the Miss Universe contest than anything else.
---
I've also been thinking about clothes this week because – shockingly – the format for the Media7 Science and Technology Special involved my legs being visible.
I realised rather belatedly that I did not actually have a suitably spiffing pair of pants to address this new reality. We had a little wardrobe budget left, so we called my chosen outfitters, Michael and Claire at Strangely Normal, and got me measured up on Tuesday morning. By that afternoon I was back for a fitting and we had the pants for Wednesday's recording.
I'm relatively new to the world of properly-tailored clothing, and I've never owned tailored trousers before. I was measured for a couple of suits on TVNZ's wardrobe budget back when the show started, but the result was an almost laughable mess. The jackets not only didn't fit well, their sleeves stopped some way short of my wrists. These pants aren't like that. They fit beautifully.
I fear that tailoring, like private whisky bottlings, has now become an occasional luxury without which I cannot do. It's a maturity thing.
The pants can be viewed online -- along with an array of interesting guests (including David Haywood) and much useful information and commentary -- on the Media7 Science & Technology Special.
I also thought it might be worth a whack at a Public Address System 'Stories' thread about those special items of clothing we hold dear -- or don't. See here for that.
---
Anyway, this is Friday, so I'll leave with a tune. And what a tune.
A 20 year-old DJ slowed down Justin Bieber's 'U Smile' by 800%, until it lasted 35 minutes and sounded beautiful and amazing. You can hear it and download it here on Soundcloud, where it passed a million plays after the Bieber himself tweeted about it.