Twenty years ago tomorrow, the Communist government of East Germany resigned. Two days later, the checkpoints in the Berlin Wall were opened, and East German citizens were allowed to pass freely to the West for the first time in decades. Within a fortnight, the wall itself was disappearing; physically dismantled by exuberant Berliners.
It was the signal point of an unravelling of order that had been in progress for much of the year. Even where blood had been shed – in April, Georgian protesters were massacred by Red Army soldiers, and Chinese students began their protest in Tiananmen Square – the momentum of freedom seemed thrillingly clear.
I was in Berlin that December, to meet with Straitjacket Fits for a Rip It Up story. I had time there either side of seeing the band, and there was still the sense of moment in the air. I heard the mayor speak in public; even my scant grasp of German was enough to know that he was saying it was a Christmas like no other.
Via an Irish friend who came to the gig, I met up with a group of young locals who filled my last night in town with bars and stories about the night the checkpoints opened. Word had gone out, they said, and they headed for the wall with whatever strong drink they could grasp.
Reality was intruding a little. West Berliners' holy right to a car park anywhere and no queues in the shops was beginning to erode. Easties were crowding through in their plastic shoes, uncertain and clutching their official West German government pocket money. But the locals were still excited to be where they were.
Of course, I went down to the wall myself and – in a blend of tourism, protest and wilful damage – managed to hack out a few pieces of the cheap, asbestos-laden concrete of which the wall was made. I still have them.
It was hard not to feel, there at the end of the 1980s, that we were entering a new, and better age. And then, on February 11, we watched Nelson Mandela's release from Robben Island live on TV. What could possibly go wrong now?
In August of 1990, central Europe saw the beginning of a war made possible by its thrilling new freedom from autocracy, as the unleashed Yugoslav republics failed to agree on their degrees of respective autonomy. It would descend into unfathomable bloodletting: neighbour murdered neighbour.
Writing in The Guardian, Timothy Garton Ash reiterates his view that 1989 was Europe's greatest year, but that the thrill for Europe is gone. Since then, he says, the US has squandered its ideological victory in a credit boom, while China has become "the most unexpected winner of them all".
At a time when economists are lining up to play Cassandra on Morning Report it's as well to remember we have lived under heavy manners before. We lived with the possibility of the world ending; we live with it now. (And the people who insisted that the nuclear arms race was nothing to worry about are the same people, at least in kind, who insist that climate change is nothing to worry about.)
But I'm not sure I have a weighty conclusion for you. Indeed, my final thought is quite frivolous. It strikes me that 1989 was not only a good year to be in Europe, but a good year to not be in New Zealand. Lange gave way to Palmer. And in the New Zealand Music Awards that year, Margaret Urlich won best album, best single and best female vocalist. Even the "best cover" prize (WTF?) went to a version of the song that won Urlich best single. Best group was adjudged to be When the Cat's Away. Honestly, people moan now …
---
But that's not important right now. Because, ladies and gentlemen, I have something good for you. Earlier this year, two of my favourite people – David Haywood and Blair Parkes – convened in a shed in New Brighton to play some music with the creative assistance of a number of bottles of Monteith's Black. David sent me a rough recording, noting its liquid provenance. I realised I was in a position to help. After some to-and-fro, a substantial quantity of beer (Original for David, Black for Blair) was delivered in Christchurch to aid the conception and creation of this fine work: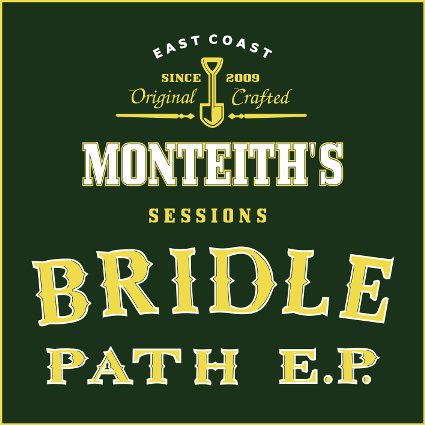 David can explain further, but essentially the aim here, as expressed by Blair, was to create a natural recording; not equalised or tweaked or polished. Just put the microphone in the right place and sing and play; David on banjo and Blair on acoustic bass and other instruments. It's made under the name The Bridle Path, it's lovely and Ian Dalziel has already christened it: ladies and gentlemen, this is "plunk rock".
You can download the 'Monteith's Sessions E.P.' as a ZIP file with MP3s and cover art (7.8MB) [right-click on the link and choose "Save Target As..."]
or:
Click here to listen to streaming audio of the 'Monteith's Sessions E.P.' on the Bridle Path MySpace page.
Please raise your glasses …
[Note: The E.P. is free to copy and distribute, but it is copyright, and Bridle Path assert their moral right to be identified as the author(s).]